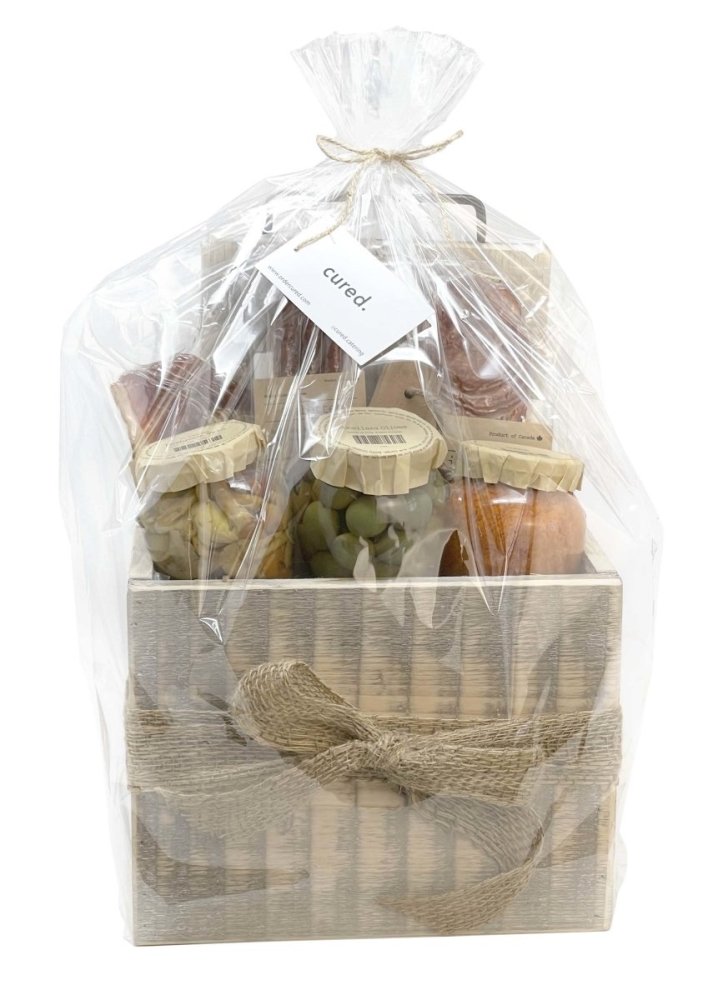 Charcuterie Box + Antipasti
This gift basket has all the fixings to make the ultimate Charcuterie Board at home! 
Filled with gourmet ingredients, with a wide variety of high-quality artisanal products to choose from, our gift baskets are sure to impress even the most discerning palates.
Our baskets can be customized to fit your company's brand and values, and can even include interactive elements.
Great for house warmings, engagements, corporate gifting, new parents, and so much more! 
Gift Basket contents:  
Keepsake Wooden Box, Wooden Board, 3 Cured Meats, Jar of Olives, Jar of Bomba, Jar of Mushrooms 
*Shelf Stable*
Please note we are not a nut free or gluten free facility but are able to omit gluten and nuts from the items ordered. 
Photos are intended as a reference. No two trays are identical, substitutions may be made at our discretion based on availability. All trays are handcrafted with care and attention to detail.
1. Select your desired item.
2. Customize your order with a personal note, or add ons.
3. Enter delivery info, including recipient name, address, and contact phone number (if available).
4. Place your order, and receive a confirmation email.
Our team will then get to work, and will send a confirmation text to the recipient when the order is out for delivery.
Yes! We send the recipient a trackable link, allowing communication with the courier to the phone number provided, when the order is out for delivery.
To place a standard order on our website, we require a minimum of 48h-- however we are able to accommodate same day, and next day with a rush delivery surcharge.
Please contact us at hello@ordercured.com for a custom quote and invoice.
Your order will be gift wrapped and hand delivered to your door by our trusted couriers. If a unit number is provided, we will deliver it directly to your door.
All our products are wrapped and sealed in our kitchen, to ensure freshness and quality.
Give the Gift of Getting Together
The best gift is time spent with loved ones, shared memories; which is why we've designed our products as experiences and centerpieces to gathering with loved ones.